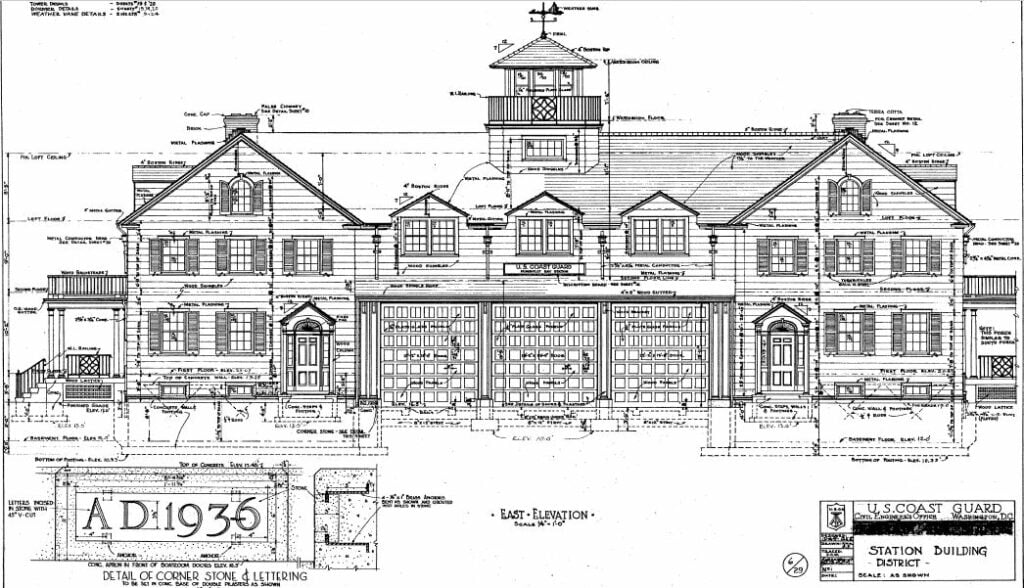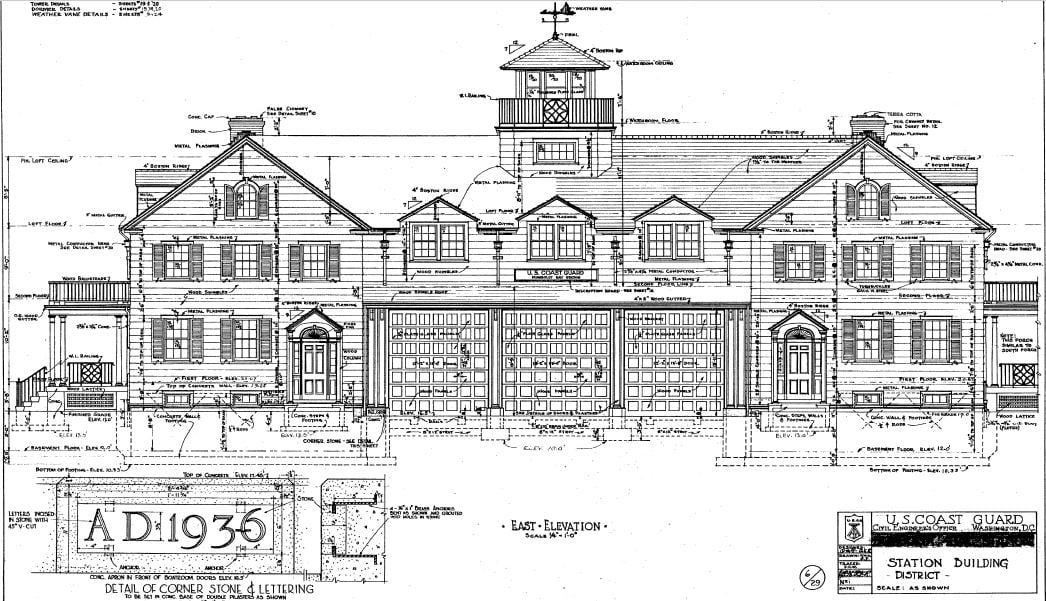 The map below shows the locations of the known Roosevelt Design Coast Guard stations. Visit the interactive Google map. Then click on the icon at each location for information on that station. Special thanks to Coastal Georgia Historical Society volunteer Patty Mallicote, who compiled information on the status of all of these buildings in 2020.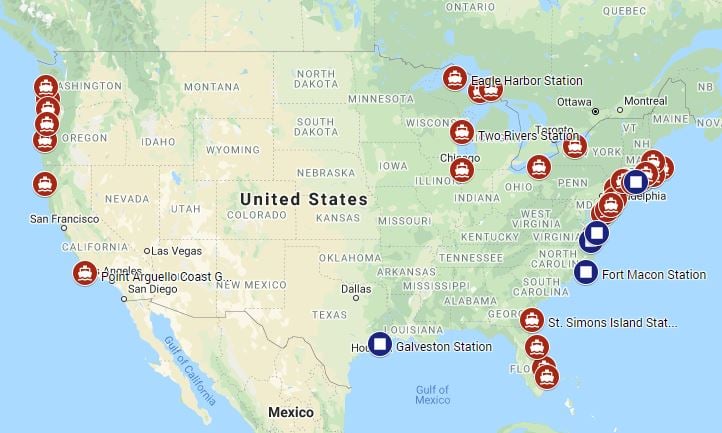 The architecture of the Historic Coast Guard Station on St. Simons Island, now home to the World War II Home Front Museum, may remind you of other stations around the country. It is one of over 40 in the United States that are known as Roosevelt Design stations. Developed in 1934, the Roosevelt Design is a standardized plan for stations built primarily in the 1930s and 1940s. The design borrows a number of details from the Colonial Revival style that became popular in the late nineteenth century.
A typical Roosevelt Design plan features a rectangular footprint and has at least two full stories. In keeping with the Colonial Revival style, the buildings are usually symmetrical and have a three-bay front porch with classical columns. Frequently, the buildings have a square watchtower at the top. No single architect is credited with developing the design, and there are a couple of variations.
Several stations that are considered Roosevelt Design share the basic concepts of the plan, but have been modified to fit specific needs. For example, the Atlantic City Station has the exact boathouse from the basic Roosevelt Design specifications, but the main station building, though symmetrical, is not rectangular. It does, however, feature some of the same Colonial Revival details as other Roosevelt Design stations, including a square watchtower.
A few stations are known as hybrid designs. Some have exteriors clad in brick, rather than wood. The Coast Guard quickly found it very expensive to maintain these wooden structures in exposed locations. The brick-clad Castle Hill/Roosevelt Design hybrid buildings were an answer to this issue.
Only four of the 43 original Roosevelt Design stations have been completely demolished. One additional station is now missing the main building, but the boathouse remains. Five stations have been moved from their original locations.
For more information on the history and architecture of Roosevelt Design Coast Guard stations, we invite you to view this National Register of Historic Places nomination submitted in 2013.*
To study the architectural details of a Roosevelt Design station, please refer to these Historic American Building Survey plans for the Humboldt Bay Coast Guard Station.
*Note: The nomination cites 46 Roosevelt Design stations; however, some of the moved stations are counted in this figure multiple times.
Do you have an image or know more about any of these stations? We would love to hear from you!