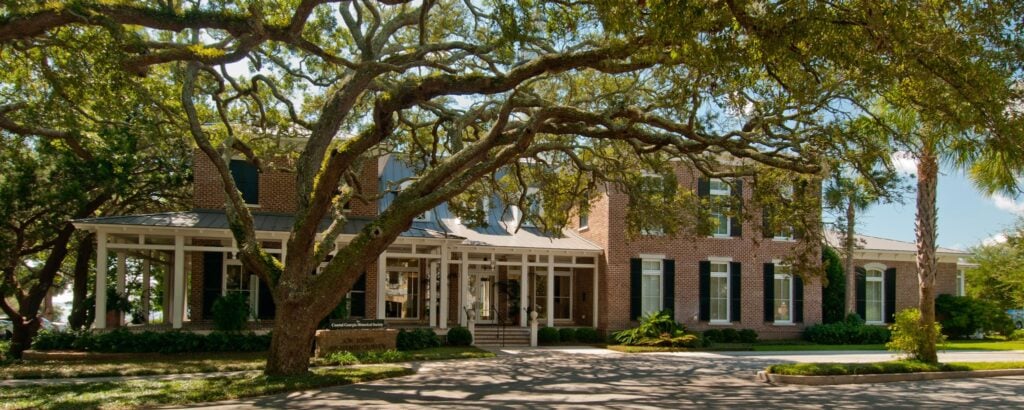 Founded in 1965, the purpose of Coastal Georgia Historical Society is to protect and maintain the historic structures and resources entrusted to its care. In carrying out this trust, the Society is dedicated to collecting and preserving items related to the culture and history of Coastal Georgia and to promoting awareness, understanding, and appreciation of the heritage of the area.
Archives and Collections
The Society's archival collection of over 15,000 items contains manuscripts, photographs, oral histories, videos, maps, plans, rare books, paintings, and artifacts related to Coastal Georgia history and culture, primarily ranging from the 18th to the 20th century. Highlights from the collection include…
St. Simons Lighthouse Collections: original plans and specifications for St. Simons Lighthouse and Keeper's Dwelling, built 1868-1872; portrait of James Gould, the first keeper of the original St. Simons Lighthouse; historical photographs, records, and artifacts related to the lighthouse buildings, the keepers, and their families.
John Couper Family Collections: correspondence, paintings, furniture, silver, and rare books related to the planter family that once owned Cannon's Point, a cotton plantation on St. Simons Island, and Hopeton, a rice plantation on the Altamaha River.
Vara Majette Paintings: a collection of 31 watercolors by artist, lawyer, and civil rights activist Vara Majette who began painting local historical scenes in a primitive style at the age of 72.
Margaret Davis Cate Glass Lantern Slide Collection: over 200 hand-colored glass lantern slides used by Cate for her lectures on local history, 1940-1960. She joined forces with retired physician and amateur photographer Orrin Wightman to document vanishing historic structures along the Georgia coast. They also captured on film the living environments of the Gullah people, descendants of the enslaved workers on 19th century coastal plantations.
World War II Coastal Georgia Home Front Collection: photographs, oral histories, and artifacts associated with the J.A. Jones Construction Company Shipyard in Brunswick where Liberty ships were built; the Naval Air Stations at Glynco and St. Simons; the Civil Air Patrol; and the Coast Guard.
Eugenia Price Collection: photographs, documents, and artifacts donated by, or as a memorial to, the noted author of historical fiction who wrote the St. Simons Trilogy (Lighthouse, New Moon Rising, Beloved Invader). Included are the author's typewriter, desk, research documents associated with the St. Simons Trilogy, and the Ed Moulthrop wooden vessel Price received as the Governor's Award for the Arts (1978).
Alan Lomax Digital Collection: digital copies of 65 hours of recordings and 120 photographs featuring the Georgia Sea Island Singers between 1935 and 1966. Included are the field recordings of noted musicologist Alan Lomax, who captured the performances of little-known musicians throughout the South and preserved their musical traditions. This digital collection was generously donated by the Alan Lomax Collection at the American Folklife Center of the Library of Congress and the Association for Cultural Equity (ACE). ACE was founded by Alan Lomax, and its archive is housed at Hunter College in New York City.