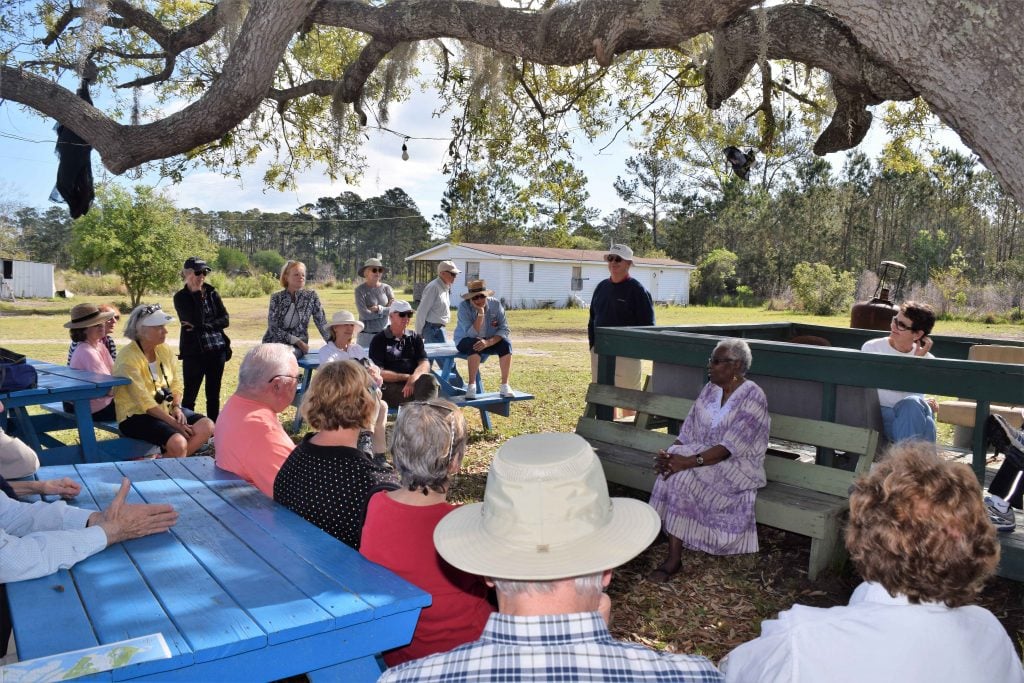 Coastal Georgia Historical Society offers a wide range of programs and activities throughout the year and strives to be a center for educational and cultural excellence in our community.
Signature Series
Membership Meetings
There are three membership meetings held annually, in the winter, spring, and fall. Each meeting features a short report given by the Executive Director to Society Members followed by a lecture from a special guest speaker. The largest of these meetings is the Society's Annual Meeting, held in January in The Cloister Ballroom on Sea Island, where upwards of 400 members gather to honor recipients of the past year's annual awards and learn from world-renowned scholars. Past keynote speakers of membership meetings have included Dean Norton, Director of Horticulture at Mount Vernon; Libby O'Connell, History Channel's Chief Historian; and Richard Brookhiser, noted biographer of America's founding fathers.
Buddy Sullivan's History Course – An Overview of Georgia's Barrier Islands
Buddy Sullivan, the Society's Senior Historian, presents a six-week overview of the history of Georgia's barrier islands and the adjoining mainland. The annual course takes place January through February and chronologically traces Georgia's coastal history from Native American culture through 20th century events, including World War II. While covering the coast from Savannah to St. Marys, the focus of the lecture series is on St. Simons, Jekyll, and Brunswick. Sullivan has conducted this popular winter series for Coastal Georgia Historical Society since 1995.
Journeys
The annual Journeys series aims to take our membership on trips through local history, both literally and figuratively, as it combines an educational program with an expert-led field trip on a similar topic. For the 2019 Journeys event, Society members took a field trip to Little St. Simons Island.
Chautauqua
The Chautauqua Lecture Series features four lectures held once a week in late summer and based on a theme related to Coastal Georgia history. The series has recently included topics such as American icons of the 1920s with Coastal Georgia connections, architectural heritage of the Golden Isles, and the Civil War. The 2015 lecture series, in celebration of the Society's 50th anniversary, focused on the iconic St. Simons Lighthouse and related lighthouse history. Thank you to Raymond James for sponsoring the Chautauqua Lecture Series.
Community and Family Programming
Little Light Music
Since 1998, the Little Light Music Concert Series has taken place on the Lighthouse grounds. This five-part concert series is held in the spring and summer and attracts over 5,000 visitors. Concerts feature local and regional talent, with an audience consisting of locals as well as tourists, many of whom are return participants. Concert-goers are encouraged to bring picnics to enjoy on the lawn. Thank you to Ameris Bank, Beachview Event Rentals, Brown-Rose Wealth Management of Morgan Stanley, Elegant Island Living, GardnerKeim Coastal Realty, Moore Stephens Tiller, and Sea Island Landscaping, for sponsoring the 2020 Little Light Music Concert Series.
Expert-Led History Tours
Walking Tours
The Society has offered walking tours of downtown Brunswick, led by staff historians.
African American History of St. Simons Tours
The Society has offered tours, led by local expert Amy Roberts, examining the history of the African American experience on St. Simons Island. Tours were generally offered in February, in celebration of Black History Month.
To register for current events, visit our Program Registration page.