Pictured left to right: Mimi Rogers, Curator; Patricia Overholt, recipient of the 2018 Cunningham Bowl, and Sandy Jensen, Education Director; Mimi Rogers, Curator and Sherri Jones, Executive Director, with the 2018 Rodriguez Service Award recipients, Gene Rackley, Linda Heagy, and Duane Harris.
2018 Volunteer Awards
At its Annual Meeting in January, the Society recognized two outstanding volunteers for their service in the previous year.
Cunningham Bowl
Since 1978, the Cunningham Bowl has been awarded to a volunteer in recognition of exemplary service to the Society in the previous year. This year's recipient is Patricia Overholt. Pat has been an outstanding volunteer, not just this year, but for many years past. She serves as both a regular docent and a school tour docent at the Lighthouse Museum, and is one of our longest serving volunteers. We greatly appreciate her enthusiasm for history and the positive impression she makes on visitors of all ages.
Rodriguez Service Award
Established in 2010, the Rodriguez Service Award honors acts of stewardship and service of staff, Board members, and individuals serving in an official capacity to the Society. This year's award was presented to Duane Harris, Linda Heagy, and Gene Rackley for their extraordinary fundraising efforts for the World War II Home Front Museum. Duane served as Victory Campaign Chair and Linda and Gene served as Co-Chairs of the Major Gifts Sub-Committee. We are deeply grateful for their passion and enthusiasm for the Society and the new Museum.
-Both awards are on display in the lobby of the A. W. Jones Heritage Center.
Annual Volunteer Luncheon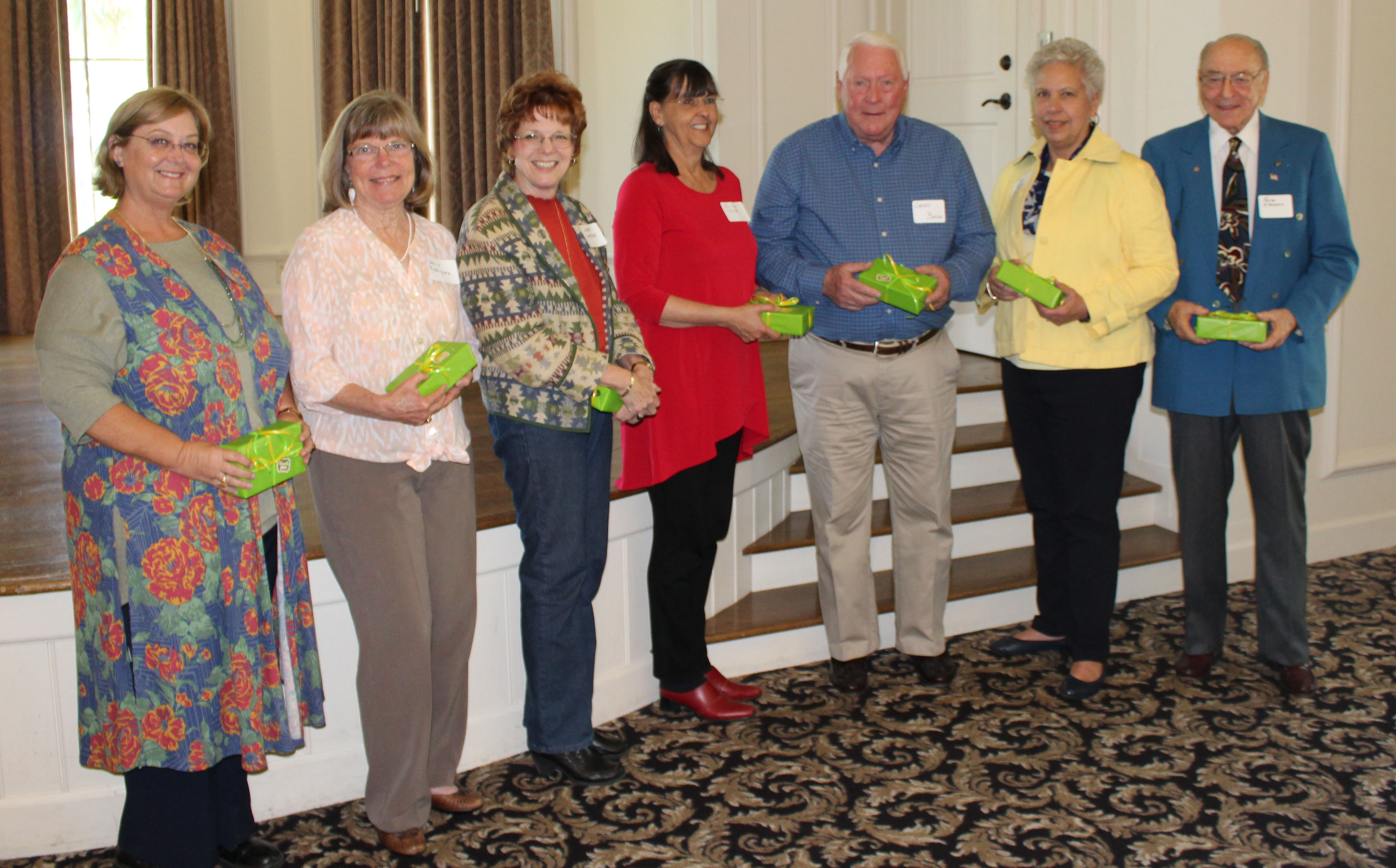 Pictured left to right: Robin White, Janis Rodriguez, Nancy Jenkins, Myrna Crook, Larry Bacon, Patty Mallicote, and Jack O'Hagan.
Coastal Georgia Historical Society honored over 50 Society volunteers at the annual Volunteer Appreciation Luncheon held on April 17, 2018. Special recognition was given to those who dedicated over 100 hours of volunteer service in 2017 (pictured above).
"We are thrilled to recognize the commitment of our volunteers who make so much of what we do possible," said Sandy Jensen, Education Director. "We appreciate them giving their time and talents to assist visitors and Society staff members."
The first volunteer appreciation luncheon was held on September 23, 1985, at the King and Prince Hotel.