Black History Month Program: Rosenwald Screening
Event Navigation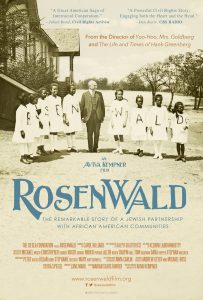 The Literary Guild of St. Simons Island is partnering with other local organizations, including the Coastal Georgia Historical Society, to hold two screenings of a documentary film about the life and philanthropy of Julius Rosenwald. Aviva Kempner's Rosenwald tells the incredible story of Julius Rosenwald, the son of an immigrant peddler who never finished high school, but rose to become the President of Sears. Influenced by the writings of the educator Booker T. Washington, this Jewish philanthropist joined forces with African American communities during the Jim Crow South to build over 5,300 schools in the early part of the 20th century. In Glynn County, the Rosenwald Fund contributed seed money to build the Glynn County Training School in 1922, later renamed Colored Memorial High School in Brunswick, GA, to honor African American veterans of World War I. Risley High School was built adjacent to Colored Memorial High in 1936, both landmarks of African American education in Glynn County.
The first screening will take place on Thursday, February 15, at 7 p.m. at the College of Coastal Georgia's Conference Center.
The second screening will take place on Wednesday, February 21, at 7 p.m. in the A.W. Jones Heritage Center Event Hall.
This event is free of charge and open to the public. Please register for either of the events through the Literary Guild's Eventbrite page.
These events are sponsored by:
Literary Guild of St. Simons Island, Inc.
Coastal Georgia Historical Society
Temple Beth Tefilloh
College of Coastal Georgia
Related Events